The photo of the snowy birch trees, paired with the gold-effect and loopy type style, set the tone for a wintery event. Using a concertina Z-fold allowed the piece to be compact and fit in the pre-selected standard envelope, helping to remain on budget, and unfolded into a panorama of the forest with the party details on the last panel. The gold lettering and snowy birch trees had texture and shine thanks to the heavy-weight linen shimmer stock. On the reverse side, the blue flood coat included a custom pattern using the company logo.
The custom pattern was also used on the envelope liner and for the event collateral.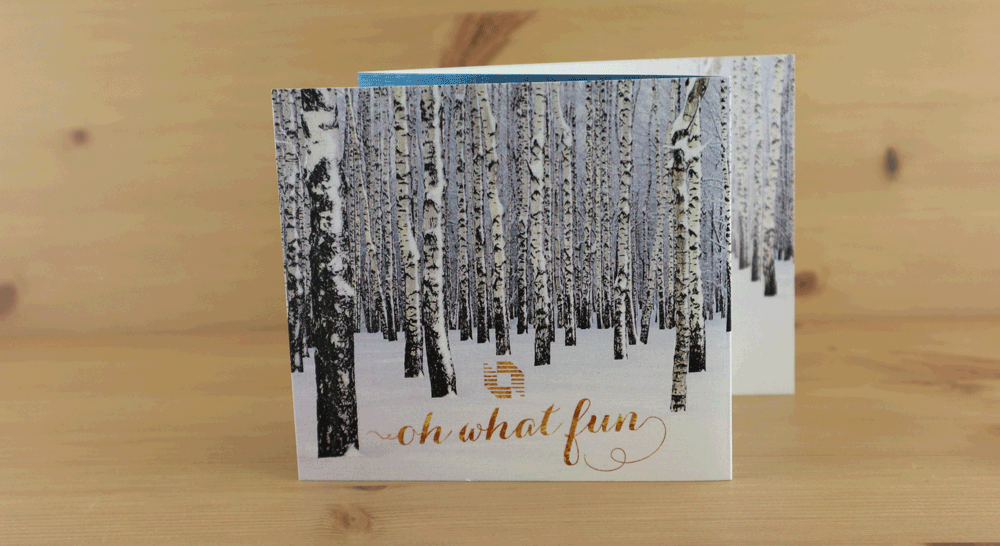 The party required several pieces, including place cards, menus, programs, nametags, posters, etc. The birch tree imagery and logo pattern were used consistently throughout these item designs.
The place cards served a dual purpose. Instead of a simple tented place card, I created a long accordion place card, with 11 accordion folds and 12 panels. The names were printed on the first panel of the accordion. When placed on the table, the tented menu and event program nested into the extra folds of the place card, creating a three-dimensional place setting. Once the guests removed the menu and program, the place card revealed itself as a 2016 desk calendar (on opposite side) to take home. These were printed and scored in house.